If there is one thing the modern woman wants when it comes to their wedding, it is anything but the usual, and her engagement ring of choice is no different. Many gemstone and metal combinations for engagement rings have been tried by jewelers over the years. One that has exploded onto the scene in recent years is emerald engagement rings. These kinds of rings are absolutely gorgeous, no matter whether emerald is paired with a gold or silver band. One thing is certain, emerald goes well with these metals and can be used in different cuts, shapes, and styles that define your personal style.
There is so much to an emerald engagement ring that we've managed to put together some of the most important points in this article. So read on to discover what makes this ring one of a kind.
Origin of Emerald Engagement Rings
The Sumerians were the first people on record to wear emerald rings. They believed the green gem could heal inflammations, especially on the eyes. So they wore emeralds on their left ring fingers and gifted loved ones who had any form of eye swellings emeralds to wear on the left fingers as well. Over the ages, emerald has grown in popularity across the world. Two such designs that have gained prominence and remain so even today are the Victorian style and the vintage-inspired emerald designs.
Emerald Engagement Ring Meaning
An emerald engagement ring is not just any type of ring. It holds a special meaning. This is a gem that older cultures of the past once thought to represent gods and goddesses, and had deep religious meanings. Today, it may not be deified, but make no mistake about it, it is just as important. Emerald represents successful love, that's why it is the gemstone of the 20th and 30th anniversary. If you want to make it that far and beyond with your significant other, then seal it with this green velvety hued stone.
Metals That Go Well With This Gemstone
We touched briefly on this before, but let's go deeper.
Though, almost any metal works with emerald, it, however, has a better appearance when it is set on certain metals because of its delicate state, inclusions and clarity. While emerald looks great on silver, this metal is the weaker choice and can be prone to blemishes or break easily.
If you are looking for a statement emerald engagement ring, then we recommend platinum, yellow or rose gold. Platinum is a good white metal option that works best with emerald alone or when combined with diamonds. The strongest metals like gold can withstand hits and scratches over a long period of time and best complements emerald's lush green color and elegance like non else.
Emerald Engagement Rings and Diamond
The most popular emerald rings are emerald solitaire engagement rings but single emeralds on white gold or platinum offer a timeless beauty with the addition of accent diamonds creating an emerald engagement ring that any bride will fall in love with.
There are also emerald halo rings. Many people think the halo ring takes away from emerald's natural beauty and sparkle, so diamond is included either as a center stone with smaller emerald stones forming a halo or the other way round, with diamond pieces encircling a larger emerald center stone. This allows both stones to shine through and not have their unique characteristics clash with the other.
Best Emerald Cuts and Shapes for Engagement Rings
Of course, the emerald cut is the universally agreed cut not just for emeralds but other gemstones for modern engagement ring styles. This cut showcases emerald best with a beautiful shape that is perfect for a solitaire emerald engagement ring.
Round cut comes in second. Round cut emeralds are also great for solitaire engagement rings and always stand out stylishly combined with accent gemstones.
The next popular choice for emerald engagement rings is oval cut. This has an elongated shape, similar to the emerald cut, and makes the gem look bigger and fuller. The oval cut can make a woman's finger look longer and slimmer. Women with petite fingers would find this cut most fitting.
Want that vintage emerald engagement ring vibe? Cushion cut provides that. You can get that vintage or antique style look with the square shape and soft edges of the gemstone with cushion cut.
Popular Figures Have Worn Emerald Engagement Rings
In Hollywood, the love for colored gemstones as engagement ring choices is rising steadfastly. We have come to see celebrities majestically display their bold colored engagement rings every year and you can be sure it's only going to get more daring.
One of the most popular figures to have sported an emerald engagement ring is Jackie Kennedy, after agreeing to marry J.F. Kennedy in the 1950s. This ring is one of the most widely known and recognizable engagement rings ever and who can forget her square shaped emerald surrounded by diamond accent stones?
French actor Oliver Martinez proposed to Halle Berry in 2012 with a 4-carat emerald engagement ring. The emerald came from mines in Muzo, Columbia which had already been shut down. The gem was a stunner painstakingly hand-forged in yellow gold and nestled between two small accent diamonds.
Another famous emerald ring is the one that belonged to the late Duchess of Windsor. She was proposed to in 1936 with a 19.77-carat emerald set on a platinum band with a gold setting by King Edward VIII after he abdicated the English throne.
Prince Rainier of Monaco proposed to his beau Grace Kelly with a historical emerald engagement ring that measured about 12 carats of emerald, flanked by diamond baguettes set in platinum.
Here are our favorite emerald engagement ring designs!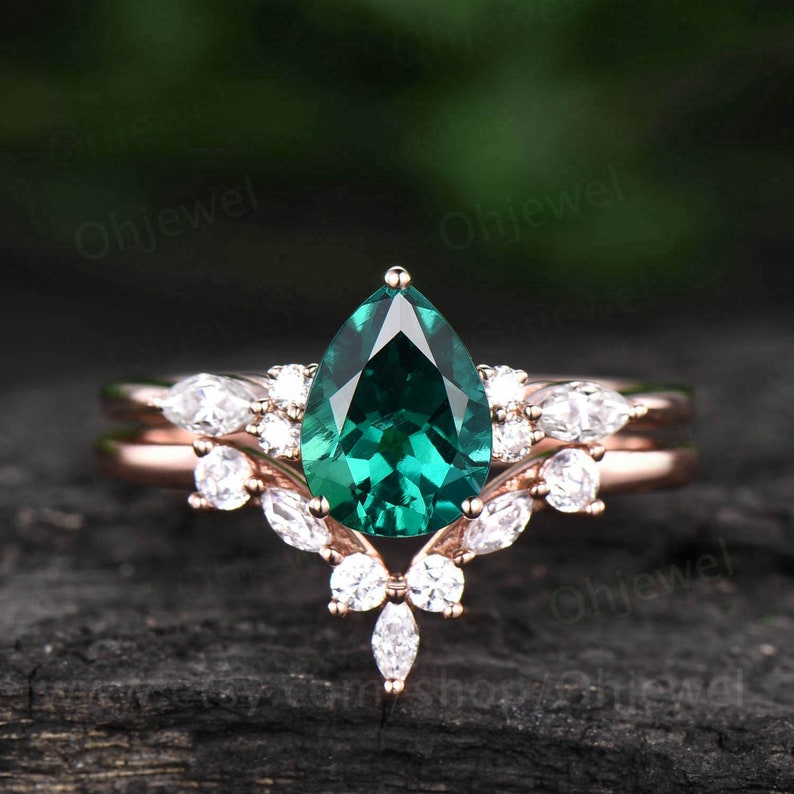 This timeless Vintage Pear Shaped Green Emerald Engagement Ring Set is expertly crafted for sparkle, with a marquise cut Moissanite center stone and rose gold setting. Its classic art deco design makes it perfect for a unique wedding ring set. Shine with elegance!
Take your bridal look to a whole new level with this cushion emerald engagement ring set. Featuring a floral design and vintage appeal, it has a unique natural emerald center and is set in a beautiful rose gold band. Its diamond accents add a luxurious touch, making it the perfect wedding set for any sophisticated bride.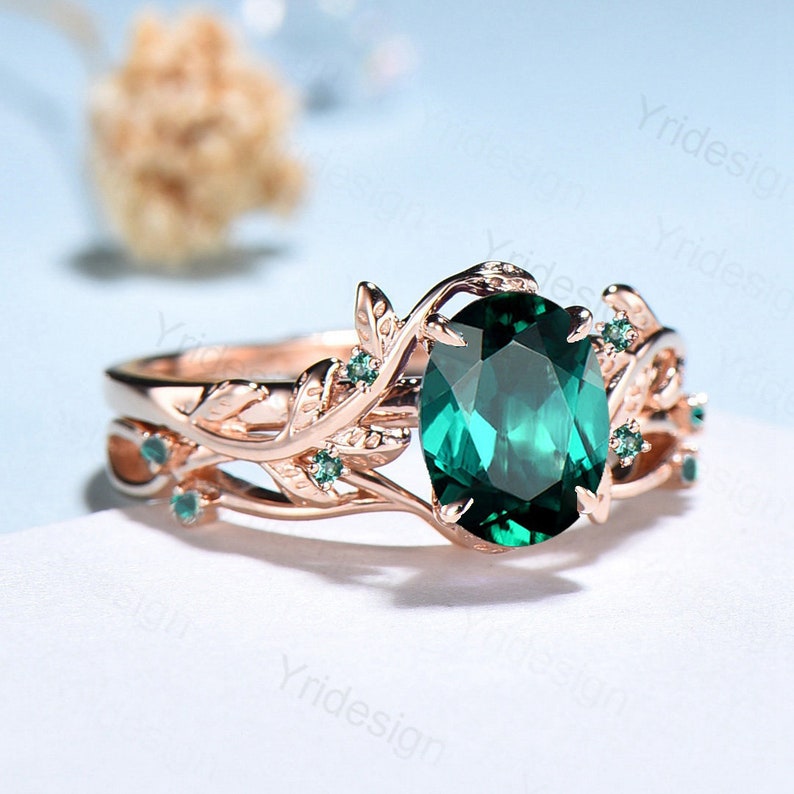 This natural inspired leaf emerald ring set is a unique and artistic way to represent your special day. Crafted with a twig-like structure and an oval emerald gemstone, this art deco rose gold wedding ring set will add a touch of nature to your engagement. A perfect gift for the modern bride.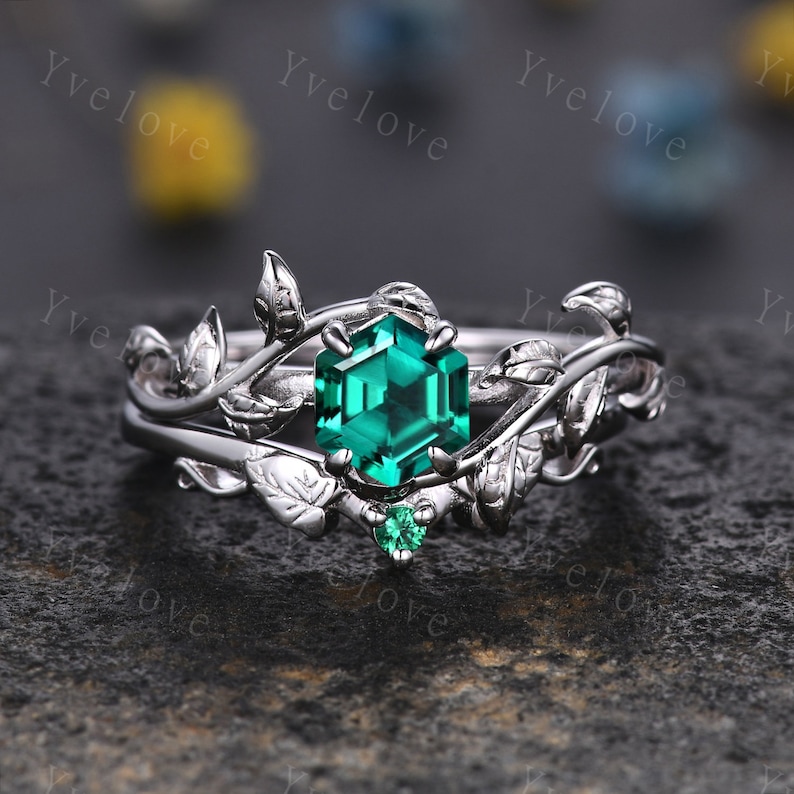 Draw attention with this striking Hexagon Emerald Ring. Featuring a vintage twig vine and leaf design, this unique ring is perfect for a special occasion, such as an engagement, anniversary, or wedding. Make a statement with this eye-catching piece.